5 Tips For Successfully Using The Online Plant Delivery Solution
People are constantly looking for ways to make their everyday lives much easier, and that's perfectly fine. So, for example, instead of having to waste a lot of time going to a specific place to buy something, they frequently resort to the option of shopping online and basically getting everything they need with just a couple of clicks. We certainly cannot argue against the fact that this has made things much easier for everyone. There is basically nothing that you cannot buy online these days, including plants. Read more on how this can work.
The very fact that you are here tells me that you are actually quite interested in learning more about the whole plant online shopping solution. In fact, you are ready to start using it, but you do want to make sure that you are doing everything the right way and that you aren't, thus, making any mistakes that could lead to you regretting your shopping decisions. These are the troubling thoughts that every single person goes through before finally taking the plunge and ordering their plants online, so it's no wonder that you're going through them as well.
How about we try and make things easier for you right away? To put it as simply as possible, there is the right way of going through this process, and then there are some wrong ways of doing it. Of course, in order to do things the right way, you'll need to get some tips that will guide you through the actual process and thus help you avoid those wrong ways that I am hinting at. Well, I'll make things a bit easier by sharing those tips and thus getting you familiar with the right way of doing things. Let's begin.
Be Careful About The Plants You Choose
We are going to begin with a tip that is quite logical and that you are probably aware of, but that is undeniably still quite worth mentioning. In the plainest words possible, not every plant will be right for you. There are various factors to consider when trying to choose the right ones for you, such as the climate you live in and the amount of time you will be able to spend caring for these plants. Some of them require much less care than the others, meaning that you could choose those less demanding ones if you are leading a busy life. It's ultimately up to you, though, but you should be careful with the choice.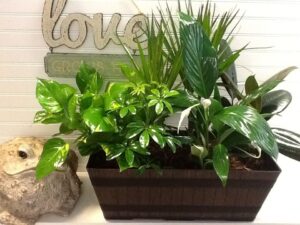 Be Careful About The Companies As Well
There is another thing that you should be careful with here. In short, you should thoroughly think about which company to choose and order your products from. This will require you to do enough research on Planted Pot and on all the other businesses that you will find and that will be ready to offer these online delivery solutions. Sure, you could just make a random choice without doing the research, but this is highly likely to lead to disappointment afterwards, and we can all agree that it is not what you want.
So, how can you prevent facing such disappointment? It's simple, really. You just need to check out several different solutions, i.e. various companies that offer these particular services and thoroughly research them. Check how experienced and how reputable they are and don't forget to have a look at the prices of their services as well. All of these factors will help you understand how good specific companies are at the job that they are doing.
Compare The Options That You'll Find
It goes without saying that your next step should consist of comparing all the solutions that you have found. This means that you should check the info you've found during the process of researching different firms and then compare the info with the aim of figuring out which ones could be right for you. I suppose that this step is perfectly logical and that you will sort of automatically do it once you find a few interesting solutions, but it definitely still needed to be mentioned, because its importance has to be emphasized.
And Remember To Check Company Reputation
Speaking of things that should be emphasized, here is another one. Checking the reputation of the companies that you are considering is always a significant move that you absolutely need to make if you want to find the perfect plant online delivery solutions for you. So, make sure to read at least a few reviews or even talk to some of the past customers if you find that this is a viable option. All of that will help you determine the reputation and thus make a wise ultimate choice.
When we are on the topic of choices, this might help you pick the best garden plants for you: https://www.wikihow.com/Choose-Plants-for-a-Garden
Only Make The Order After You're Properly Informed On Everything
When you successfully go through the researching process explained above, you will be almost ready to make your decision and place your order. I say "almost" because there are still a few things to check, things such as the payment and delivery options, as well as return policies. My advice here is to make your order only after you've gotten properly informed on basically everything you need to know regarding these services. So, take your time to check everything and then buy the plants you want to have.